DELTA-4 'EXTRA' QUICK CHARGER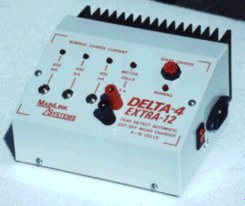 This charger is capable of providing a quick convenient charge on up to four individual 4-10 cell nicad packs, (4,8 - 12 volt) with capacities ranging from 50mAh to 2Ah upwards. It runs off 240v mains or 12 volt (car battery) supplies. DELTA 4 can be used to fully charge your nicad packs at home then be used to charge your motor power batteries etc."in the field". Our own Digital Delta Peak auto-cut-off detection is used individually on each outlet so it is safe to leave the system running unattended with batteries being applied in any state of charge. As batteries become fully charged that outlet will switch off.
A single nicad pack (not nicad cell), can be charged and other packs added later to spare outlets at any time; the single START button being pressed again whenever a further battery is added. LED indicators illuminate at each charge outlet to show that charge is taking place. A RUNNING LED to the right of the unit flashes when any of the charge outlets are in use. The RUNNING LED remains on when the charger has totally shut down. The four charge outlets have been set to give different constant current charge rates.
The LEFT HAND outlet charges nominally at 200mA. This is most useful with smaller batteries, say of 50mAh capacity upwards.
The TWO CENTRE outlets charge nominally at 400mA. These are ideally suited for pencell packs similar to those used with the Rx & Tx.
The RIGHT HAND outlet is provided for motor power batteries and runs at a nominal charge current of 3 amps. This is suited for packs of 1000mAh rating and upwards.
Larger capacity nicads are best charged on the highest output available where the shorter charging times will be attractive. Nicads are not damaged nor is their life reduced by using DELTA 4 all the time. Extensive trials have proved the Digital Detection system to be accurate and ultra reliable, producing no undue stress to the nicad. If any nicad cannot take a quicker charge because of its age or damage, DELTA 4 will not charge that battery. It is quite in order to use a "mix" of different battery capacities at the same time, viz, a 5-cell 150mA, a 7-cell 800mA, a 4-cell 500mA and an 8-cell 1700mA. Each battery will switch off when it becomes fully charged.
CHARGE TIMES These vary according to the capacity of the battery and the outlet you have chosen. As a guide, we have included a table that shows what can be expected when batteries are charged from a flat condition. Of course, nicads with some residual charge will take less time. There is no need to use any special type of nicad with DELTA 4, vented or otherwise. For this reason it is quite safe to use the charger all the time. There is little reason for the occasional slow charge other than with a new battery where the cells might not be very matched. The initial slow charge (or even a controlled cycle or two) does help to equalize mismatch with a new pack. Should any battery appear to drop out of charge earlier that is expected it is usually that the battery has a fault in a cell or cells. This is a useful safety feature to warn of impending trouble. The only other reason for faulty charging is due to dirty plugs/connectors. We advise these to be kept as clean as possible at all times. This is especially so with the 12 volt supply jack connector. RUNNING DELTA 4 comes with a conventional mains leads assembly. This plugs into the socket at the right side of the case. The alternative 12 volt input is via the 1/4" jack plug. At switch-on from either mains or DC supply DELTA 4 will give two flashes on its running LED. After this it is ready for use. Provided at least one nicad battery has been connected to an outlet socket, a single press on the start button will activate the charger. Further nicads can be added to other sockets at any time. With each additional battery the start button should be re-pressed. Note that when DELTA 4 is in operation, you should wait a minimum of 15 seconds between each further battery addition to allow the sampling programme to set up correctly.
SPECIFICATION
240 volt mains supply or 12 volt car battery. Mains ON/OFF switch.
Single start control for first and subsequent batteries.
Nominal charge currents 1 x 200mA, 2 x 400mA and 1 x 3 amps. (3 amp connection via 4mm plug-in/screw terminals).
Typical charge times with flat batteries shown in table below:-
4 to 10 cells

BATTERY CAPACITY

OUTPUT SKT

150mA

270mA

500mA

1000mA

1700mA

200mA

50 mins

90 mins

2¾ hours

5½ hours

Slow!

400mA

25 mins

45 mins

1¼ hours

2½ hours

4¾ hours

3Ah

N/A

N/A

N/A

20 mins

35 mins
The above are only guidelines. Nicads with residual charge, will be quicker.
LED indicators for each output showing battery charging.
Running LED to show operation.
Full protection against reverse connection. If nicad is reversed, no damage will occur.
Will work with transmitters with diode at charge socket
Voltage boost with 12 volt supply.
During operation, especially running with 4 cell packs, the unit will become warm. This is normal. However, do not obstruct airflow around the heatsink at the rear of the case. Also please note that the three charge leads supplied fit 2.5mm (centre pin) sockets on the charger. It is not possible to fit 2.1mm pin plugs which look similar. The positive cable is the one with the stripe along the side. Connection to the 12v input is via the jack plug supplied - positive to the centre end point. Use 7A connecting cable. DELTA-4 is reverse lead protected. There is no harm in changing over from 12v to mains supply while the charger is running. It might be useful sometime!
MAINLINK SYSTEMS ALWAYS IN THE LEAD WITH CHARGERS