DELTA-6 QUICK CHARGER
240v MAINS POWERED
or MAINS & 12v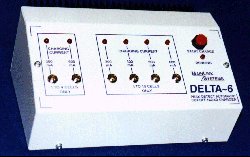 FIRSTLY, A QUESTION OR THREE. . . .
Do you use standard or larger receiver and transmitter nicads? Do you also sometimes use an Rx back-up nicad and even an on-board glow drive for the engine? It's not unknown for models to have a petrol ignition engine which may also requires its own separate nicad. Let's face it, charging a host of different nicads when we want them can be daunting and cumbersome. It may be that you have more than one model and even a second Tx to be taken on the next outing. Don't overlook the domestic scene either. Do you have nicad batteries in your set of electric hedge trimmers, camcorder, shaver and power drill? These may also need charging, most likely on that same fine day. No doubt you have a charger for each of the above and doesn't your workshop look a cluttered mess when more than a couple of batteries are being charged? The simple concept of our Delta chargers has proved so revolutionary that many people may understandably expect a tidy solution to be rather complex! Please read on. . .
Enter the DELTA 6
The DELTA-6 has been developed from our highly acclaimed and reliable DELTA-4 charger which is able to fast charge standard nicad/hydride(NiMh) packs of 4 to 10 cells easily, simply and safely on each or any output. DELTA-6 is able to handle up to six separate nicad batteries with any combination between a SINGLE CELL, up to a 10-CELL pack, each with automatic delta peak cut-off. Various nicad/hydride(NiMh) can be charged together or singly, in fact just as you please. The unit has similar charge outlets on the four right-hand sockets as those with DELTA-4 while the two additional sockets on the left-hand side allow charging for 1 to 4 cell packs.
All outputs can be used at any time whenever the charger is ON. and the table (below) gives some idea of the charge times expected with battery packs of differing sizes. It must be noted that the number of cells in the pack is unimportant as far as charge time is concerned. All outputs have constant current sources so a 4-cell 600mA pack will take exactly the same time to charge as a 10-cell 600mA pack being charged on that particular output.
There is no need for special nicads, vented, tagged or otherwise when using the DELTA-6 charger. Although the charge rate is faster than the average 'boring' overnight trickle charge, our digital process has proved itself highly accurate and safe. In fact it is quite common to find that many of our customers have relegated their simpler chargers to the museum once they have used one of our Delta chargers.
4 to 10 cells

BATTERY CAPACITY

OUTPUT SKT

150mA

270mA

500mA

1000mA

1700mA

200mA

50 mins

90 mins

3 hours

6 hours

Slow!

400mA

25 mins

45 mins

1.5 hours

3 hours

4.75 hours

600mA

17 mins

30 mins

1 hour

2 hours

3.25 hours
1 to 4 cells

BATTERY CAPACITY

OUTPUT SKT

150mA

270mA

500mA

1000mA

1700mA

300mA

35 mins

1 hour

2 hours

4 hours

Slow!

600mA

17 mins

30 mins

1 hour

2 hours

3.25 hours
For the four (4-10 cell outlets) the charge currents provided are two at 600mA, one at 400mA and one at 200mA. The two 1-4 cell outlets provide 600mA and 300mA respectively. This nicad charger uses the same safe reliable digital technology that is used with all our Delta Peak systems. It must be stressed that that long term tests using our DELTA chargers on many thousands of standard nicads have demonstrated no harm or undue heating. Standard Rx & Tx nicads can be charged in situ. In fact, because the DELTA charger allows your batteries to be charged only when needed, they do tend to last longer. We can cite known cases where standard R/C nicads have been quick charged (only) for many years some 1,000 plus times and are still shown in reliable working order.
It's made for you
Operation of the DELTA-6 is simplicity itself. We have never advocated complicated operation procedures and wherever possible our products are not only practical but very user-friendly. Power is provided by a conventional IEC moulded mains cable that plugs neatly into the side of the case. When switched on a running light (LED) flashes twice to show all is ready for use. Plug in any nicad pack (1-10 cells) using one or more of the leads provided and press the START button. The charge indicator will illuminate relating to that battery pack and will stay ON as long as charge is required on that battery. At any time, even while an existing battery is being charged, you can add other packs to be charged on other sockets as required. Each time a new battery is added simply re-press the start button. There are indicators for each charging outlet. They will go out in turn as the batteries become charged and ready for use. There is no adjustment required for different sizes of nicad battery. It is automatic. Clever programming avoids you becoming involved with this. It is quite in order to charge the Tx nicad through the normal charge socket. The batteries get less warm than they might be on a summer day. The charger also peak detects with transmitters where there is a protection diode in their charge circuits. . . .
Think DELTA-6.
It makes sense.